EQUIPMENT FOR DRAFT SURVEY
READ VESSEL'S DRAFT FROM THE SCREEN OF YOUR MOBILE PHONE
Hi guys!
None of the surveyors likes to use the rope ladder to read outside draught marks, especially in winter time. There are a warm and life jackets, safety belt, flashlight on you and in addition - your own weight is close to 100 kg! Is it hard? Is it dangerous?
YES, indeed!
I'm sure you are strong enough to do it, but please, save your power for your girlfriend!☺
New equipment "Alexx" will help you to read outside draught marks from the screen of your cell phone staying on the deck and without going down by rope ladder, zoom view and record video of the vessel's draught marks, if necessary.
SAFETY - first of all!
You can perform all of this with help of a waterproof camera mounted on a special stage (platform), which is lowered overboard till the water level and transmit video via Wi-Fi to the screen of your mobile phone!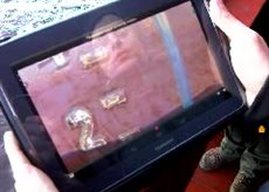 Using equipment "Alexx" you will be able:
Read all sea-side draught marks and shore-side mid draught marks, if it's covered by shore fender
Read and record video of draught marks in the day or night time
Watch your video recordings in case of any doubts and disagreements
Define average mid draft in rough weather applying Draught Tube and "Alexx"
Supply your clients by video confirmation of drafts
Take pictures of any small damages on hull during on/off-hire inspections
Perform training for new cargo officers and surveyors using video recordings of drafts
Perform your job SAFELY, easier and more interesting!
Advantages:
Safety
Convenience
Compact
Easy to assemble on site
Portable
Reducing time for Draft Survey
Lightweight
Autonomous backlighting
Tested in extreme climate conditions
Approved for max weight of 16 kg
Video recordings (confirmation) of vessel's drafts​
The production is asbestos free in accordance with SOLAS ll-1, REGULATION 3-5 AND MSC.1/CIRC.1379.
Advice:
How to buy:
If you have estimated all the advantages and benefits of new equipment "Alexx" and decided to use it, you'll need:
Choose and purchase any digital sports waterproof camera with good Wi-Fi (Range : 10-15 m for small-sized vessels and 20-30 m for Panamax, Chinamax and more - range in the distance without any obstacles!). (There is a wide choice of inexpensive digital sport cameras with good Wi-Fi on Amazon, eBay, AliExpress and etc.)
Just press the "VISIT SHOP" button below or write to us on "CONTACT US" page and we'll give a reply to all your questions. Do not hesitate, guys!
We accept big orders from large shipping companies.
Please note that the large Anglo-Eastern shipping company in Hong Kong has already purchased and equipped all of its bulkers with equipment "Alexx" (including Draught Tube). This indicates the real concern of the company's management about the SAFETY of their crews.
Cargo Officers can order a/m equipment via their company's Purchasing Department:
Send them your order.
Explain the reason. (For example: Required to be o/b during draft surveys in rough sea, open waters. Reduce errors in draft readings.)
Mark that the production is ASBESTOS FREE IN ACCORDANCE WITH SOLAS ll-1, REGULATION 3-5 AND MSC.1/CIRC.1379
Supply them by the copy of the page with description of the item and address of the web-site also.
All your advices, ideas, and notes concerning "Alexx" equipment for draft survey would be appreciated very much!
Note: We leave our right to improve and change some details in the device.
BE ADVANCED SURVEYOR!